US Academy for
Human Excellence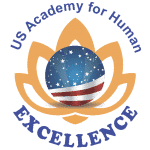 The US Academy for Human Excellence is a public service organization with a vision to redefine education and pave the path for a new moral and spiritual revolution in the field of education, and mission to provide transformative, integral educational programming for the blossoming of human excellence within teachers, children, parents and the community.
"Human excellence will blossom only when the relationship and balance between the physical and spiritual aspects is intimately established."
— Sathya Sai Baba
Teaching for Transformation: Nurturing Mindful Teachers in Human Values Education
This workshop consists of nine modules based on the acronym TEACHER with an introduction to transformative education followed by a focus on Self-Analysis for continuing the process of teacher self-transformation.
T – transformation
E – exemplar
A – awareness of the oneness
C – cultural relevance
H – unity of head, heart and hands
E – environment
R – unity of religions
Mindful Parenting for a Meaningful Life
This workshop is designed for parents and all others interested in the upbringing of children. Packed with experiential exercises, the workshop leads participants into the mindful application of the principles underlying Human Values Education to all relationships, including those with children. Essentially, it is we who have to change, so that our children can be inspired to emulate our example of joyful, virtuous living.
The Application of Values Education for Developing Self-Awareness in Early Childhood
This workshop focuses on providing an environment for our young children can recognize and nurture into fruition their innate human excellence so that they can be equipped with an inner strength and knowing in their adult years. Research suggests that adolescents with some transcendent connection have less incidents of risky behaviors such as alcohol and drug abuse as well as depression.
For further information email us at: [email protected]