Taking holistic values-based Education to the doorstep of Rural India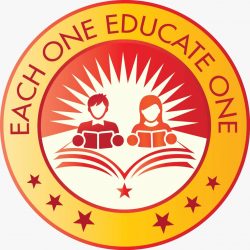 Under the Each One Educate One program, students that come from underprivileged and underserved backgrounds are provided the opportunity to access high-quality values-based education, free of cost. The fully residential schools not only impart lessons in the classrooms but also provide a conducive community-life environment on campus that helps the students imbibe & live the values of love & service, caring & sharing brotherhood of man, fatherhood of God, empathy, humility, respect and gratitude.
All the students studying in grades 6 – 10 and pre-university grades are covered under this education program that calls for an investment of $365.00 per student per annum.
In the current academic year 2021-22, nearly 2000 students are enrolled under this particular program, in the secondary and higher secondary school grades of our partner Institution – Sri Sathya Sai Loka Seva Gurukulam.
The investment of $365.00 per child covers the tuition fees and other school expenses incurred as per the graphic shown below: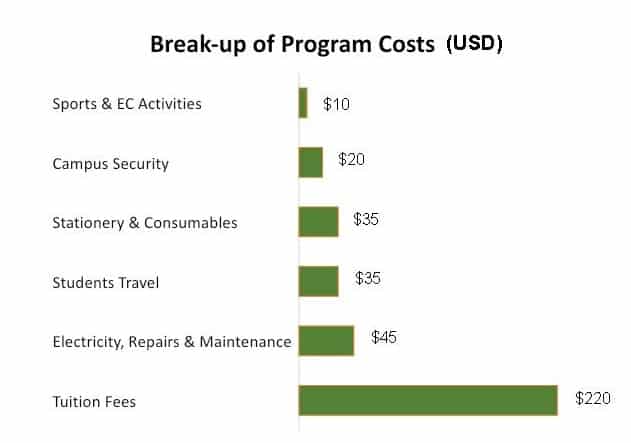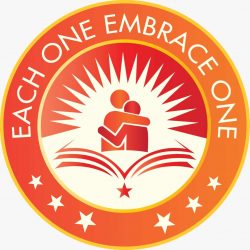 The core aim of our Education Mission is not to just take the gift of education to those who cannot afford it, but even to those who cannot even dream of it. Thus, came into being the Each One Embrace One Program conceived and instituted as a very loving and thoughtful expansion of the Each One Educate One Program.
Under this program, not just the education costs, but even the other expenses incurred for boarding, lodging, clothing, daily essentials and personal expenses of the needy and destitute children, are taken care of in total. 
With the primary objective of offering to the poor what they lack and thereby ensuring that no child is deprived of its right to education, our partner schools have devised a carefully crafted selection process that involves:
A meticulous search of the villages surrounding our campuses to identify destitute children from families lacking even in necessities.
A validation process using the help of the village elder or concerned district block officials.
A personal interaction and a counselling session with the parent/s or relatives of the children short-listed for the program.
An invitation extended to them to visit the campus along with the child to see and understand the opportunity that beckons for their child's bright future.
The Each One Embrace One program thus comes to the rescue of many such otherwise neglected or abandoned children – boys and girls; offering them hope and a second chance at life!
We are already reaping gratifying rewards in the form of many students – beneficiaries of the Each One Embrace One program – who have just completed their graduation in our university and are currently undergoing their internship. It is so very exciting and gratifying to see how the innocent, subdued and clueless children of a few years ago, have today grown and blossomed into dynamic, confident youth, capable of shouldering varied responsibilities and committed to paying forward to their younger brothers and sisters, what they received and benefited from. Indeed, the true spirit of "what goes around comes around" can be felt here and experienced firsthand!
The Each One Embrace One program calls for an investment of $1,000.00 USD per student per annum, with the below list of costs: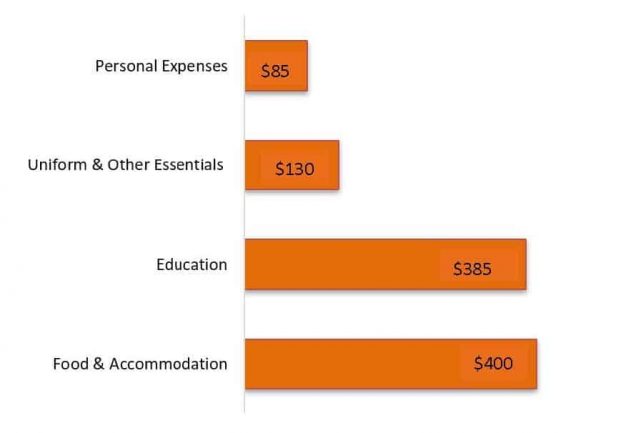 Educate a Girl – You Educate the Nation
Since our campuses are located in remote areas, most of the students are first generation literates. We have seen that the Each One Embrace One program is particularly suitable and attractive for girl-child education. The families of these girls who could, but for this emancipating opportunity, never have imagined educating their daughters, see them flower into confident, multi-talented young women. The stipend offered to them during their internship and post-graduation allows them to even send money home! Something unimaginable before, given their background!
In many ways, the E1Em1 program is also serving to mitigate other social evils such as child marriage, child labor and trafficking in these backward communities. When the girl starts contributing to the income of the family, the entire outlook changes; she begins to be respected and acknowledged.
When you invest in the Each One Embrace One program, you invest in an entire family. To begin with, the parents don't have to worry about feeding and clothing their children, let alone educating them! After their education, the children become independent and not only give back to their families, but also pay it forward to their younger sisters and brothers! Thus begins a virtuous cycle that can be sustained and perpetuated through countless such children and families in-waiting, across the length and breadth of India. This can be made possible when more and more of us join hands to do this together, for therein lies our strength and therein lies the future of our country and the generations to follow. Needless to say, it's a win-win situation all around – for the child, the family and most importantly, for you, for us! So come along and take that first step … Embrace one or more today!
Each One
Higher Educate ONE
The Crest Jewel of the Each One Educate One Foundation's Education Mission
With the establishment of the Sri Sathya Sai University for Human Excellence in Gulbarga (Karnataka) in 2019-20, the Sri Sathya Sai Loka Seva Gurukulam system of education is available right until the culmination of a student's formal education, providing them a seamless, all-round merit-based passage from Secondary and Higher Secondary School levels, all the way to Graduation, Post-graduation and even PhD!
The Each One Educate One Foundation is delighted to expand the scope of its Education Mission through this new initiative – The Each One Higher Educate One Program – was conceived and instituted in the Academic year commencing June 2021 to promote and support our students, many of whom are 1st generation literates, for their University Education.
A one of its kind University Program designed for the underprivileged and underserved students from rural India, to create Gen-next leaders imbued with Social Responsibility, Spiritual Proclivity and Multipotentiality.
The University curriculum and model of education strive to prime and produce students endowed not just with academic brilliance but more importantly, with human excellence imbibed from a holistic system of education. An education aimed at producing balanced and all-round integrated personalities who are a harmonious synthesis of a sharp mind, a kind heart and competent hands — a unique combination of nobility and ability.
Internship Program
A one-year compulsory Internship Program was introduced as an interlude between the Undergraduate and Post graduate courses. It is designed to hone the Leadership and Management Skills of the students through practical training. The young graduates are given an opportunity to serve as teachers for junior secondary school classes, administrators, event managers, coordinators, accountants, coaches and so on.
Stipend: In order to discourage the students' families from forcing their sons or daughters to discontinue their education after graduation to earn income, the e1he1 Program, apart from offering education and all other facilities totally free of cost, also grants a stipend to the interns for the entire duration of their internship.
In addition, when the interns join the post-graduate program a year later, their stipend continues! Wonder why? You must remember that many of these students are first generation literates coming from backward communities having a golden chance at life. However, if their stipends are discontinued during their post-graduation, many of these students are likely to discontinue their studies because of pressure back home. This is true especially for girls. However, if they continue to send money back home during their post-graduation, the family gets to have a regular income and the student is well on course to earn a post graduate degree; something he/she would never have thought possible!
e1he1
In an age and world woefully starved of human values, our University aims to offer to the Nation and world at large, an inspired generation of young leaders – graduates, post graduates and doctorates who, like a breath of fresh air, have opted for this one of its kind Higher Education model. Not merely to earn a living but to be the change that we all wish to see today and to become super-spreaders of this model of values-based education for life across the Nation.